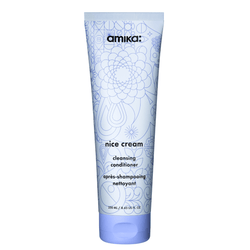 Amika. Nice Cream Cleansing Conditioner - 250 ml
For whom: A cleansing conditioner for curly, wavy, or any other type of hair that requires gentle cleaning.
Information: The after-shampoo Cleansing Conditioner Nice Cream from Amika is a one-step cleanser that cleans smoothly and moisturizes without weighing down, regardless of your hair type. The non-foaming formula cleans gently while offering light hydration. Ideal for dry, rough, curly or colourful hair, you can bid farewell to dry and dull hair, replaced by soft and hydrated hair. Clean and moisturize your hair thoroughly with shampoo and conditioner in two steps at least once a week to remove all impurities, accumulations and dandruff.

Characteristics:
- Cleansing conditioner that cleans gently and moisturizes lightly all types of hair.
- The non-foaming formula cleans gently while offering light hydration
- Softens and hydrates to prevent drying and dull appearance