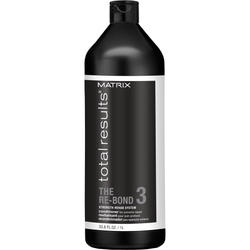 Matrix. Total Results The Re-Bond Step 3 Conditioner - 1000ml
1000 ml
For whom: Weakened and over-treated hair
Information: Discover our deep hair repair solution: Total Results the Re-Bond reconstructs the damage done to the internal structure of your hair up to 3 bleaching sessions*

Formed with taurine, The Re-Bond conditioner seals moisture in each strand and builds additional resistance around bridges for revived hair.

The 3-step routine helps strengthen weakened and over-treated hair, leaving it strengthened, moisturized and supple.
Tips for use: For optimal results, use the shampoo, pre-conditioner and conditioner system.
*If the system is used as indicated for two weeks