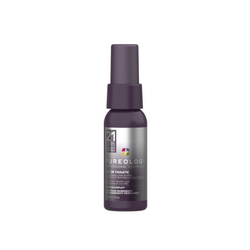 Pureology. Color Fanatic 21 in 1 No-Rinse Spray - 30 ml (mix-minis)
For who : All hair types. An everyday ally, we love it!

Information:This 100% vegan multitasking hair spray is infused with natural oils and our exclusive AntiFade complex. It acts as both a hair conditioner, hair heat protectant and hair straightening treatment. Prepares hair for heat and styling, protects hair from damage by providing an impenetrable barrier using our exclusive AntiFade Complex, and acts as an anti-frizz spray and hair shine treatment to prep and perfect the hair. root to tip! Now the real question is: what does it not do?
21 Key Benefits:
PREPARE
1. Protects against colour fading
2. Acts as a leave-in conditioner
3. Instantly detangles
4. Facilitates blow drying
5. Moisturizes dry hair
6. Helps even out porosity
7. Nourishes without weighing down
8. Makes cutting easier
PROTECTED
9. Helps prevent split ends
10. Helps prevent breakage from brushing
11. Helps strengthen the hair fiber
12. Protects against heat damage
13. Creates a shield against external aggressions
BEAUTIFUL
14. Smoothes the surface of the hair
15. Makes hair silky
16 Helps seal the cuticle
17. Decreases dehydration
18. Controls frizz
19. Reduces static electricity
20. Refreshes hair for re-styling
21. Adds shine
Usage tips: Spray the product on damp hair daily, after your favorite Pureology shampoo and conditioner. Then apply VOLUME, CONTROL or TEXTURE products to create your style.