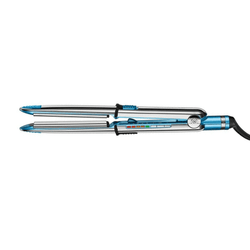 Babyliss Pro. Flat in Optima 3000 titanium - 1-1/4 in
Model : BABSS3000TUC
For who : Any type of hair. We pay attention to the heat for blond and discolored hair.
Information:The Babyliss Pro Smooth Iron. Optima 3000 1 1/4 reaches unprecedented summits in terms of smoothing. Made with the most advanced materials with advanced characteristics that redefine ease of use, excellence and performance, it is the last hairstyle.The Sus304 Convex Steel Convex Box is light, corrosion resistant and deformation resistant. The stainless steel construction maintains parallel plates and at an equal distance. What is more, unlike most plastics, stainless steel does not deform under the effect of heat. Double use: allows to smooth or curl hair with maximum ease and efficiency. Aeronautical quality titanium plates offer superior heat transfer, for silky, revitalized and shiny hair. The high density heating system with two ceramic resistances offers more power, for a 20% faster temperature settling and an exceptional heat transfer-up to 240 'C. Thermo-insulated-insulated-insulated.DEL screen with adjustable temperature from 150'C to 240'C.Pivoting cord of industrial quality of 2.75 m.
4 -year manufacturer's guarantee.