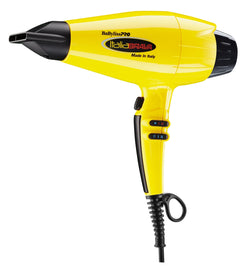 Babyliss. Professional hair-dryer Italia Brava Ferrari 1875 watts-BABFB1C
Model:BABFB1C
To whom:For all hair types
Information:It is one of the most powerful hair-dryers in the market. It's a must for girls with thick hair!
Characteristics
2 settings of the speed, 3 settings of heat plus a cold air button
Lockable turbo function
Removable Anti-Noise Filter
2 ultra-narrow 6.5 mm nozzles included
Compatible with broadcaster BABDF2
1875 watts
Engine to AC
Air flow 10 % faster
15 % more pressure
Drying 50 % faster
Life time 10,000 hours
4-year manufacturer's warranty.