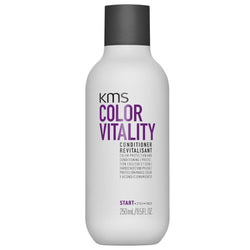 Kms. Colorvitality Color Conditioner - 250 ml
250 ml
For whom: All types of hair.
Information: Maintains the result of coloring for up to 3 times longer. Moisturizes. Provides maximum shine.
Three times longer than without the Colorvitality pro-pain shield; with the use of Kms. Colorvitality Color Shampoo - 300 ml
Use: Apply after shampoo, leave for 2 minutes, then rinse.