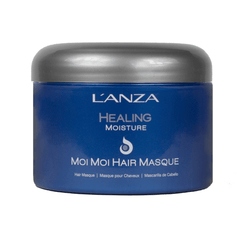 L'Anza. Healing Moisture Hydrating Mask Me Me Hair - 200 ml
200 ml
The Moisture Retain complex contains Polynesian medicinal plants, rich in essential fatty acids, lipids, emollients and humectants. These natural moisturizers provide optimal hydration to dry and thick hair.
For whom: All hair types. Ideal for dry hair needing hydration.
Information: A therapeutic formula for intense hydration ideal for extremely dry hair.
Provides deep hydration, even to the most dehydrated hair
Penetrates completely, without leaving any residue and without weighing down
Blue beads of moisture instantly releases concentrated moisturizers
Enriched with Moisture Retain complex: a concentrated mixture of natural Polynesian moisturizers,

 

that moisturize

 

dry and rough hair leaving them soft and silky.
Usage tips: Apply to wet hair after using Tamanu cream shampoo and Kukui nut conditioner

Cruelty-free and wild and organic botanical ingredients.