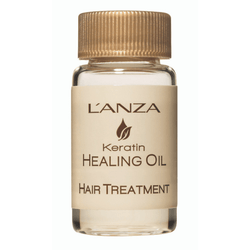 L'Anza. Keratin Healing Oil Hair Treatment - 10ml
10 ml
The exclusive blend of four unique vegetable oils, made in nature, offers unprecedented health and shine to all types of hair. Created to restore and maintain the perfect balance of essential fatty acids in hair, this blend of botanical healing oils moisturizes and nourishes dry and stressed hair without fat or residue.
For whom: All hair type.

Information:This oil regenerates the keratin protein and leaves the hair shiny and healthy in addition to reducing the drying time by 50% .It regenerates optimal hydration while restoring elasticity and shine. It contains no sulphates, parabens, gluten and sodium chloride. Made from a mixture of keratin protein and Phyto IV Complex which combine to leave the hair incredibly soft and smooth with a radiant glow. Keratin reconstructs the inner layers of the hair to add volume and elasticity. Protects the hair against heating appliances.The first volumizing oil adds a brilliant gloss without weight.
Strengthens with concentrated healing assets.

Provides a flexible body and bounce.

Rehydrates the hair to make it soft and silky.

Shortens drying time by 50%

Provides high temperature thermal and UV protection.
Use: While the hair is still wet, put a small amount in the hair. Style as desired. The treatment can also be put on a dry hair to give more shine.
Cruelty-free and wild and organic botanical ingredients.