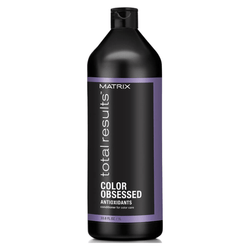 Matrice. Total Results Color Obsessed Conditioner - 1000 ml
1000 ml
For whom: For coloured hair
Information:The Color Obsessed system, containing an antioxidant, helps to protect hair colour from fading and extends the brightness of your colour to 32 washings*.
For reinforced hair and with remarkable shine.
User tips: After the Color Obsessed shampoo. Apply on wet hair. Massage. Rinse. If contact with the eyes occurs, rinse immediately.

*The system consists of shampoo, conditioner and a spray.