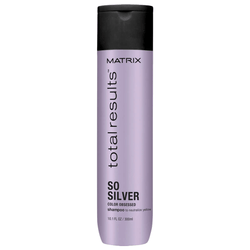 Matrix. Total Results So Silver Color Obsessed Shampoo- 300 ml
300 ml
For whom: For blond, grey or white hair
Information: So Silver neutralizes unwanted copper highlights and yellowish tones on blonde and grey hair. This blue-purple pigment shampoo is suitable for both natural hair and coloured hair, and preserves the radiance of your colour while eliminating unwanted tones.
Tips for use: Wear proper gloves, apply to wet hair, lather and rinse thoroughly. For maximum benefit, lather twice and let the second application work for 3 to 5 minutes. Rinse. Repeat if necessary.
WARNING: THIS PRODUCT CONTAINS INGREDIENTS THAT CAN CAUSE SKIN IRRITATION IN SOME INDIVIDUALS. A SKIN TEST ACCORDING TO THE GUIDELINES PROVIDED WITH THIS PRODUCT SHOULD FIRST BE PERFORMED BEFORE ANY USE. THIS PRODUCT SHOULD NOT BE USED TO COLOR EYELASHES OR EYEBROWS, WHICH COULD LEAD TO BLINDNESS. AVOID CONTACT WITH THE EYES AND SKIN (OTHER THAN THE AREAS WHERE THE PRODUCT HAS BEEN APPLIED). IF IN CASE OF CONTACT, RINSE THOROUGHLY WITH WATER. KEEP OUT OF THE REACH OF CHILDREN. NOT TO INGEST. WEAR DISPOSABLE GLOVES WHEN APPLYING. WASH YOUR HANDS THOROUGHLY AFTER USING THE PRODUCT. DO NOT USE THE PRODUCT ON A SENSITIVE OR IRRITATED SCALP. TAKE A SKIN ALLERGY TEST 48 HOURS BEFORE EACH APPLICATION OF THE PRODUCT SINCE ALLERGIES CAN DEVELOP SUDDENLY, EVEN IF YOUR CLIENT HAS ALREADY USED THIS PRODUCT OR A PRODUCT OF THE SAME BRAND OR OTHER BRAND. SKIN ALLERGY TEST: Using soap and water, wash an area the size of a 25 cent in the hollow of your elbow or that of your client. Tap with absorbent cotton to dry. Apply the product to the tested area using a cotton swab. Allow to dry. You or your client should not wash, cover or disturb the tested area in any way for 48 hours. You or your client will need to examine the tested area on a regular basis for the next 48 hours. If you or your client experiences any reaction such as redness, burning or tingling, swelling, rash or irritation on the area tested. YOU OR YOUR CLIENT SHOULD NOT USE THIS PRODUCT OR ANY OTHER COLOURING UNTIL YOU HAVE CONSULTED A DOCTOR. If your client experiences any of these reactions during the application, rinse immediately and see a doctor/recommend your client see a doctor. You/your client should not reuse hair coloring products until a doctor is consulted.