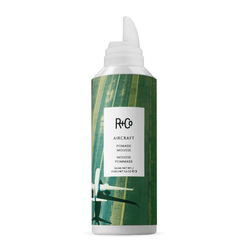 R-Co. Aircraft Gel Mousse - 165 ml
165 ml
For whom: Hairstyles on all types or lengths of hair.
Information: It is perfect for creating a "second-day" texture and definition on freshly washed hair, while preserving its volume. Ideal on wavy, curly hair.
Perfume: Relative Paradise - A radiant creation of the earth - Sicilian Lemon - Mandarin - Eucalyptus - Green TeaMoss - Fresh Amber

Tips for use:With its foam texture, Aircraft is easier to apply than an ointment. Rub a hazelnut of product in your hands and distribute over your hair.