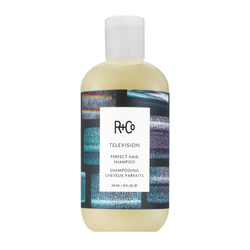 R + Co. Television Perfect Hair Shampoo -241 ml
241 ml
For whom: Any person who wants all the qualities of a beautiful, healthy and camera-ready hair.
Information:The perfect hair revolution will be televised - Smile! The Television Perfect Hair shampoo + Conditioning  gives you everything you need for the big screen: volume, brightness, softness and smoothness. That is why they are perfect!
Perfume: DARK WAVES A warm and romantic scent-Cardamom-Pineapple-Mandarin-Lavender-Bamboo-Blonde Wood

Usage tips: Apply a twenty-five cent of the shampoo on the hair. Rinse. Continue with the Television Perfect Hair Conditioner.