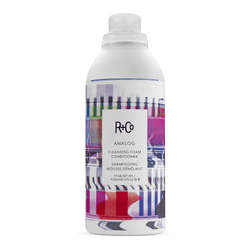 R+CO. Analog Shampoo Disentangling Foam - 177 ml
177 ml
For whom: Coloured, dehydrated or rough hair.
Information: Hair as light as air? Yes, right now! In the fight against this little devil that is the force of gravity, Analog will be your best ally. It softens and treats your hair without weighing it down, whatever their type.
Perfume: Love Bite - A lively and sophisticated perfume-Orange - Rhubarb - Cardamom - Fig -Guava - Blonde Wood - Amber

Usage tips: Apply a small amount on to wet hair and scalp, massage roots and the tips. Rinse.