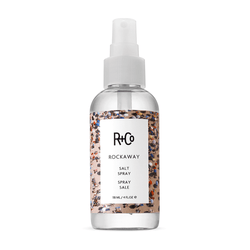 R-Co. Rockaway Salt Spray - 119 ml
119 ml
For whom: Girls looking for a "just got back from the beach" look.
Information: We're all beautiful at the beach - or rather, our hair is. The sun, sand and wind have a volumizing effect on the hair, revealing a wildly sexy mane. Rockaway is the perfect styling treatment to replicate this "back to the beach" look without even putting a toe out of the urban jungle. When should do you use it? To sport wavy hair as if you were returning from a day at the beach.
Perfume: Relative Paradise - A radiant creation of the earth Sicilian Lemon - Mandarin - Eucalyptus - Green TeaMoss - Fresh Amber

Tips for use: Spray Rockaway on areas where you want more volume and texture.