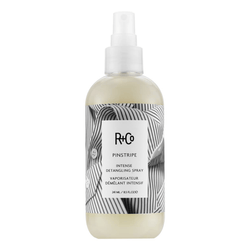 R-Co. Pinstripe Intensive Detangling Spray - 241 ml
241 ml
For whom: Dry or very rebellious hair.
Information: Pinstripe brings out the finer details of your hair. It is light, adds shine and moisturizes even the most rebellious hair.Use it every time you go out.
Good for: Dry or very rebellious hair. Revitalizes and moisturizes with lightness.
Perfume: Relative Paradise - A radiant creation of the land Lemon of Sicily - Mandarin - Eucalyptus - Green Tea - Moss - Fresh Amber

Tips for use:Spray on wet or damp hair and comb. There is no need to rinse.